Welcome To the Man Made Beard Bible, For All Beard Styles! The Holy Bible for bearded men!
Something within this bible will definitely boost your beard confidence, educate and hopefully you might even read to the end!

Really that depends on how interested you are in beards!

Or you're a woman trying to convince her man to grow out a top -quality beard and you were recommended to come our way for the Freshest, smoothest and god damn art of our work!

Because that's all we know.

First of all ,let me tell you about myself!

Hi, I'm Connor the man who made this blog. Also, the owner and founder of
Man Made Beard Company - #beardwithconfidence
If you have been following our social you would have seen our tags being kicked around as well as seeing some of the great work we do with the charity Mind. Raising awareness on mental health is just something I am also passionate about.

So I Kickstarted Man Made Beard Company back in 2020, having sported a beard from high school until later entering the military. Upon returning the beauty of my beard was back!
Growing it out fully again, remembering when I got my first
Starter Beard Grooming Kit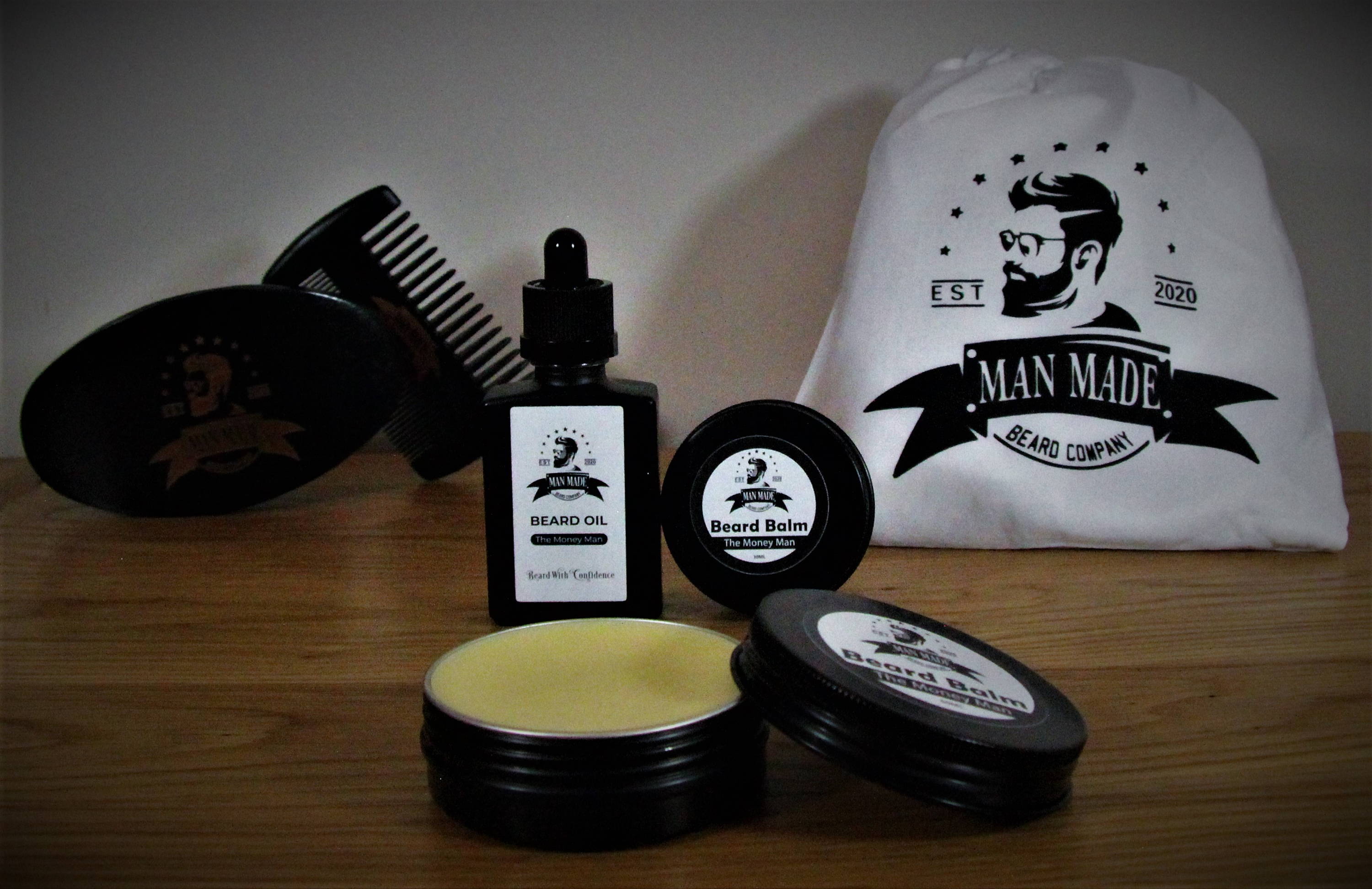 Originally starting out with the usual, Beard Oil, Beard Balm & Beard Comb!
Soon to push more now than ever, we introduced the slickest, dopest and god damn finest of Beard Care Brushes. Putting the icing on the cake with our signature logo, it was official the Man Made Beard Company Stamped on!
We then adventured out to Beard Catchers commonly known as Beard Aprons or Barber Capes but we all know it's a Beard Catcher because as we named it, it does as it says.

Just like anything you see with us, simple & transparent.
The way a beard company is meant to be!

Natural, Organic and bloody awesome.

If you have seen our about page, you would have seen Tyson. He is my right-hand dog, unfortunately, he can't make the products due to the strict health and safety policy we have in place. He does love to sit next to me, when I speak to all the brothers and sisters on the socials, sometimes even a cheeky text from himself (when I'm working from home)

Anyways, Tyson mentioned you might be looking for your
first Starter Beard Grooming Kit?
Well before we show you the beauty, maybe you would like to know what's in it and how to use a beard starter kit.

Let's start with the obvious, shall we?

Beard is actually a term for the word hair, Your beard is made up of Hair Follicles (stems or hair shaft are other terms) which are attached to the chin of a man's face.
You will also see hair on the cheeks, on the upper lip (also commonly known as a Moustache) resting underneath the nose. Again you will have hair growing from the chin down the neck (or throat as some may say)

Hair has 3 phases to its growth and they go in this order;
Anagen, Catagen & Telogen

Each phase will determine how long the hair will grow in your beard growth.

Now if you are a bearded man you already know the secret (that there isn't no big secret)

In fact, many beard newbies or unfortunate non-bearded men actually still believe there is a beard hack of some kind. Very wrong indeed ales you're looking into a beard transplant.

So when do you start to develop a beard?
Most men typically start growing a beard whilst going through puberty during their mid-teens, many men have patchy, itchy and irritable beards due to lack of knowledge and beard routine.

Beard care can be a big confusion if you're new to the beard game, that's where we come in and feel you with knowledge so you can increase your beard IQ and then graduate from man made beard uni. (There isn't actually a beard uni – for those who was already googling our course)
What is beard oil & How to use beard oil?
Beard oil is made up using natural carrier oils, Example we use Argan Oil, Jojoba Oil & Sweet Almond Oil. If you know your oils then you can already tell by the ingredient's in our oils that these beard oils are made of high quality.

Helping fight Beard itch, Beard Dandruff
(also know as beardruff in the beard world)
keeping your beard healthy and nourished and silky smooth. Also using Sweet Almond Oil gives a sleek shine to your beard making your beard stand out, which men just envy and women just love to stroke your beard.

So Beard oil is used for moisturising and hydrating the skin beneath your beard hair, helping stimulate the beard growth from under your skin. Using Beard oil will also help by strengthening your hair follicle resulting in a stronger beard (level up your Beard Game) whilst reducing the terrible beard itch.
Again this is probably why you first started looking for solutions to beard itch as you want to keep the badass beard!
As you know beard oil is a liquid, combined with carrier oils mentioned above.
Normally these come in little dropper bottles, most commonly these are 30ml beard oils sold on the market from £10 - £26 (yes some beard oils are crazy expensive, of course, that's why we wanted to deliver top-quality beard products at affordable prices View Man Made Beard Oils
How to use Man Made beard oil
Slowly using the glass viral pipette squeeze out 4-6 drops of the oil (medium to long length if you have a short beard then 2-3 drops will do)
Rubbing into your hands and the tips of your fingers, run your hands up in and through you beard getting as close to the skin as possible and gently massaging into your face. If you need more then you can add more, if you wanted to get deep to the skin. Drop a little drip down your cheek so it runs down into your skin and massage in once it's got where you want it.
Once applied, you want to use a beard comb. This will enable the oil to be spread thoroughly throughout your hair, getting in the places you can't with your hand. Also, it helps get more out of the product itself.
Beard Brush – if you're looking for the final touch up this is perfect to separate your individual hairs and give you more of a defined finish to your beard.
For the perfect finish, beard balm is always a great way to apply, you can find this below!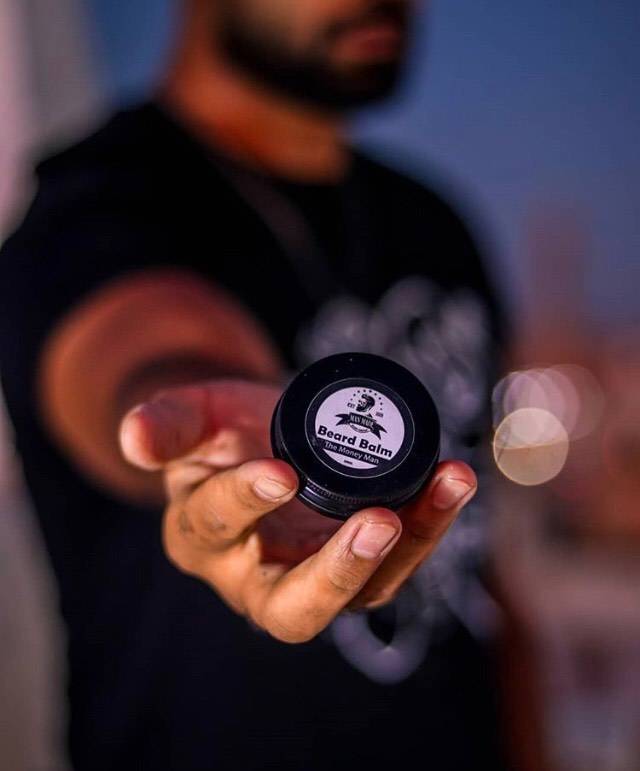 What is beard balm & How to use beard balm?
Similar to beard oil, beard balm is also made up of carrier oils. With our particular beard balms, we add castor oil. If you have seen our YouTube, Connor goes into depth about the difference between our beard balms to many others on the beard market.
He mentions "We add castor oil, for many reasons. Starting with the consistency of the oil, it's a great way of thickening the balm as well as being an easily absorbable oil it helps the beard balm. Moisturise and condition your hair follicles whilst strengthening your hair shaft, giving you a stronger beard. This also contributes to fighting the irritable beard itch, beard dandruff (beardruff) and yes it makes your beard look on top of its game."

Now we have covered the carrier oils, let's talk about my favourite ingredient!
Again, if you know me you already know what this is haha. COCOA BUTTER, Yes it's sweet, succulent and just the best butter is known to mankind! In fact, it is probably the best natural ingredient to anything ever (change my mind).
Cocoa butter is the game changer I shall tell you why!
Yes, its smells like heaven, but do you know some of the benefits?
Cocoa butter is high in the following: Vitamin E, Iron, Zinc, Calcium & Magnesium. Maximising the benefits for your hair is also great for preventing hair loss. Strengthening the hair follicle (Hair strand/shaft) itself, whilst adding volume to your beard making it a lot more manageable!
Stand out from the crowd!
If you're similar to me, you may get a curly beard, this can be rather irritating!
Knowing how to manage such an irritable beard has now got easier, our products definitely have their individual qualities and is a well-known brand within the UK beard industry.
You can't go wrong with what we have to offer.
Again, Cocoa butter promotes beard hair growth, by reducing the loss of protein.
We use organic beeswax, so that balm gets the final hold. Using beeswax is where you will get the hold within your beard, being organic you can be assured that no chemicals have been used and free from animal cruelty!
Congratulations you just levelled up your Beard IQ, now it's time to
learn how to use beard oil!
Follow these steps to maximise the use of your product and to gain insight to
The Best Beard Balm Application Instructions!
Upon opening your beautiful new care package, you want to grab a small amount on the tip of your finger no more than a 5 pence piece (you can always add more if needed!
Melt the beard balm into your hands, turning it from a solid substance to a liquid substance.
By warming the balm up in your hands, making this turn into a liquid makes the product easier to apply.
You don't want it to be solid when you apply, once melted and applied to your beard. It will then get to work by soaking into your beard hair and giving it the volume and you can start giving yourself that epic beard!
Again, similar to

beard oil

. You want to run your hands up through your beard several times in an (up & down type of motion) until you have covered your beard with the beard balm.
Once covered you want to start shaping your beard, firstly by using your hands to get the beauty into place.
Using a beard comb will help define your individual hair strands to help ease detangling the beard and giving a great shape.
When using a beard brush to finish off that well-groomed beard defining each beauty of a hair will shine in place to perfection.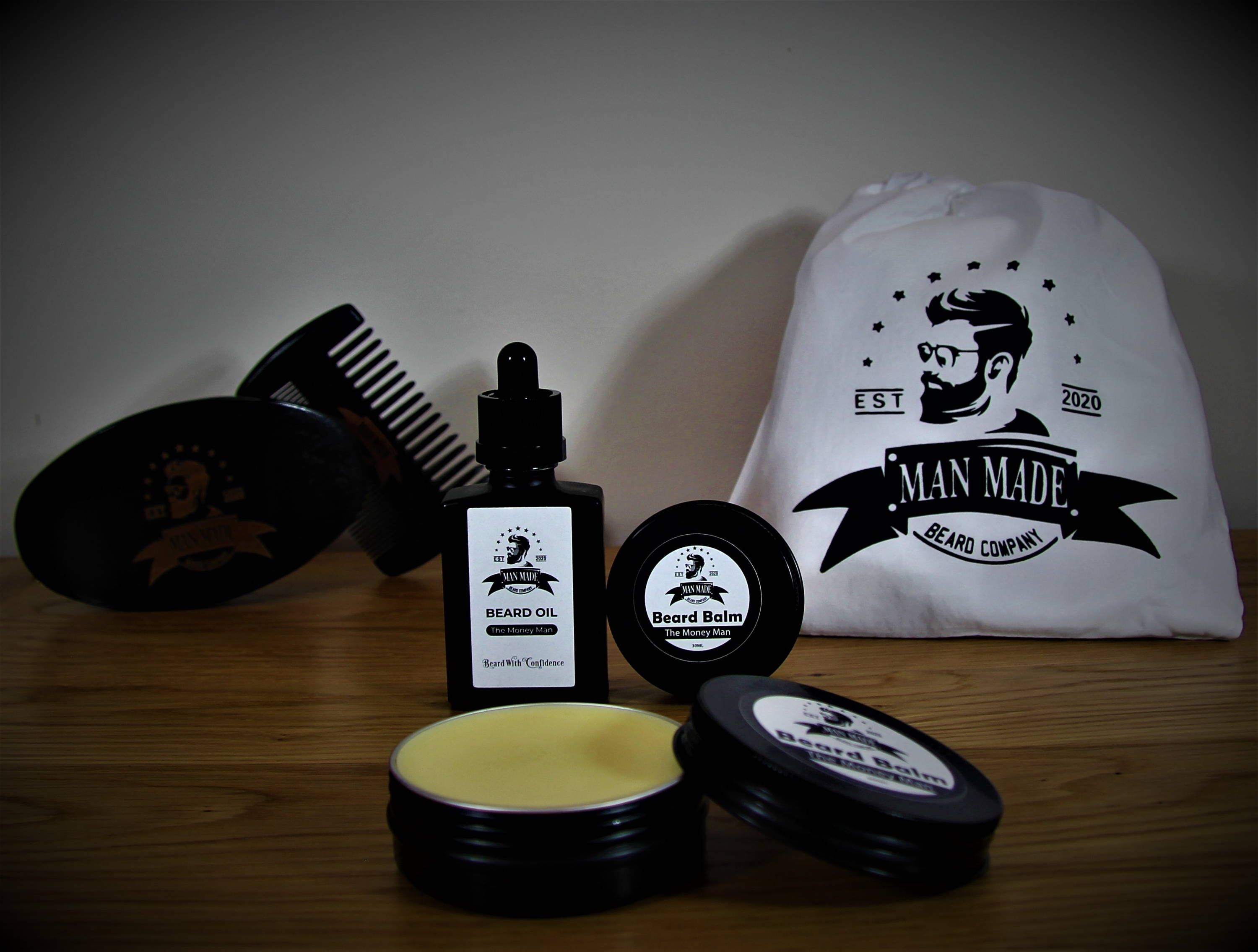 The Ultimate Beard Kit (Pictured Above)
What's your washing routine like?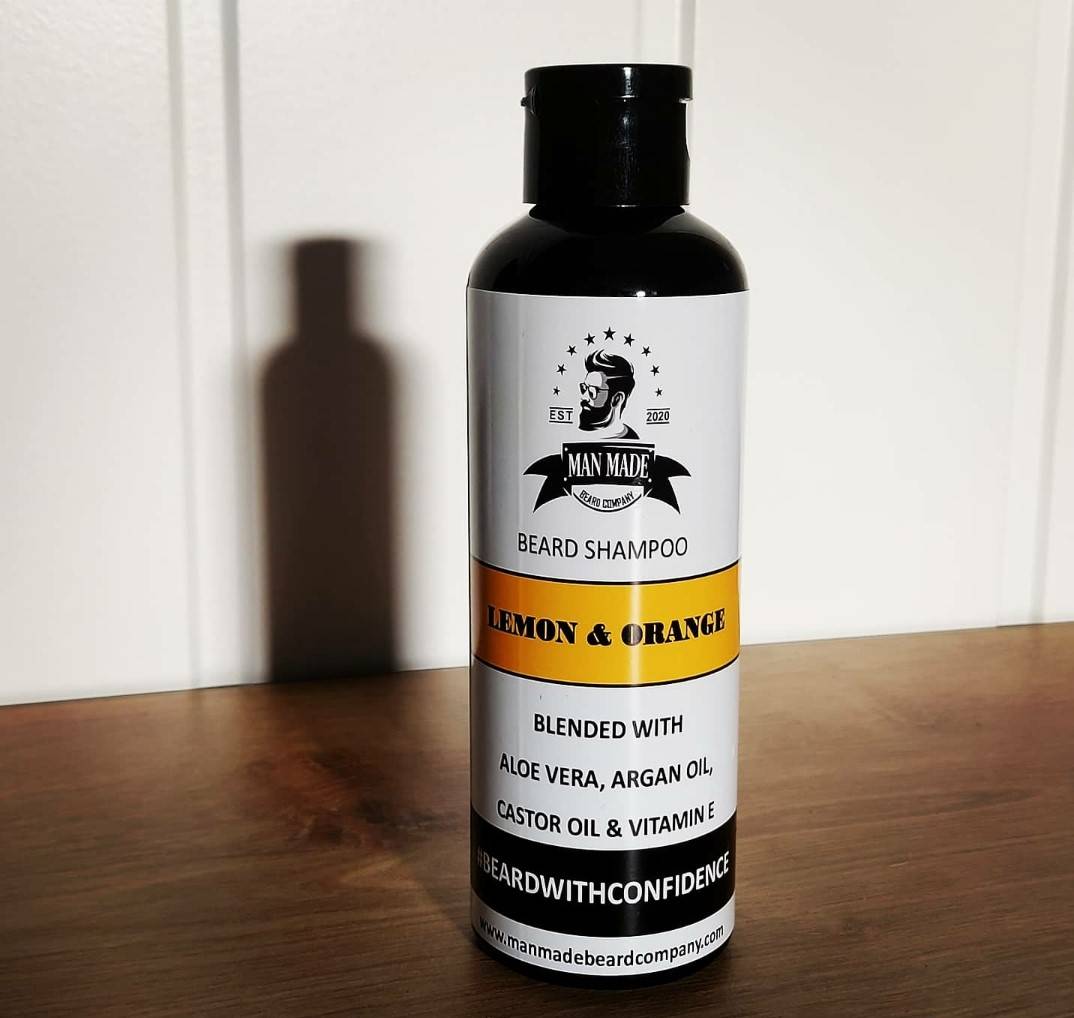 So when we come on to the subject of washing our beautiful mane, what is your current routine.

Are you washing your beard every day?
Are you using head shampoo?
Do you wash your beard with hot water?

So if you said yes to any of these questions, then your doing it all WRONG!

Let me inform you, why all of the above is actually damaging your hair!
Yes that's right, you are actually damaging your beard. So Stop!

Want to know my beard routine?
Before you get in the shower, you want to use a decent beard brush, something that's firm, curved and long on the hair, check out our Man Made Beard Brush for a great example of how a beard brush should be.
By using the beard brush, before a shower, you can clear away any built-up debris (dead skin) helping break up any built up.
Now, remember washing your beard every day will put a strain on your beard. Incurring such a strain will only cause split ends and increase the chances of your hair falling out (you won't no longer have a thick beard) also chlorine is used in the water supply, which also dry's out your hair (alongside many other chemicals).
You Don't Want a Dry Beard now do you?
Using a head hair shampoo, to clean your beard is also very damaging to your beard
Due to the added parabens (it's like putting bleach on your beard! Don't do it!)
Again, we recommend a more natural beard soap or beard shampoo.
Unsure what to use? Put your mind at ease!
View the awesome beard shampoo's & soaps we have to offer – Click Here
Now, you want to make sure when your washing your beard and even your face for this matter. That the water isn't pipe steaming hot if you are allowing your beard/face to indulge in a pleasant after-work shower then it's time to tell you. Doing this actually damages your beard/skin, when showering or even taking a hot bath.
When the temperature is too hot it can cause the following issues.
- Dry Skin

- Itchiness (dry beard)
- Hot Showers are actually bad for fertility
- Acne – Potentially increase chances of Acne
- Damaging to your hair follicle's
So as you can see from the above, there are in fact many disadvantages of indulging in a hot shower. Being something we all love, it's probably rare to be a 5-minute shower. More like 20 min's because we love to feel warm and comfortable!
Let me break down some reasons for the above.
Dry Skin, now as mentioned above using incorrect shampoo is damaging to your beard and yes your face but combined with a hot shower you are in fact doubling your chances of increasing dry skin. This then leads to itchiness and what happens when you over itch your beard/skin, you increase the chances of acne and if you already suffer from acne then you just make it worse. If you hadn't already realised that this is also very damaging to your beard, drying out your beard and increasing the chances of hair loss due to the strain on the hair follicles too.
Yes, it's true, hot showers actually reduce your sperm count!
Now you're out the shower freezing your nuts off between your legs, this is normally a good time to dry yourself haha. Yes, we won't go into details on how to dry yourself, moving back to the beard.
Damp or Dry?
Another great question when applying beard oil, I personally damp my beard dry then apply the beard oil. I also use a hairdryer to blow my beard down whilst using a comb, after that, I use a beard balm to hold finished off with the almighty beard brush for the finest of finishes.
On the odd occasion I use a beard straightener but not all the time as this can also damage your beard, if you are using a beard straightener then I suggest your beard be fully dry.
DO NOT use beard oil before straightening your beard, you will fry your beautiful mane and look a complete idiot!
Here's a little Beard FAQ
How long does it take for beard itch to go?
Whilst this is normally the growing stage, it will take a little longer as the hair beard is in the early stages of development. If you have a longer beard then the simple answer is lack of oil, if you don't keep your beard in top condition it will frustrate you.

Do I need both beard oil & beard balm?
Now some people prefer to simply have just the balm or even the oil standalone, as mentioned previously I use both. Oil for the skin, balm for the hair, just like that in simple terms. You can also read the blog I did on Beard Balm or Beard Oil.
I have a short beard, do I need a comb?
Depending on the plan of growth, if you bought a beard combo or gift set. There isn't no harm in owning one for when the times are right, you don't need a comb if you have a really short beard but you will still benefit from using a brush. As mentioned this removes the build-up of debris and using it before washing is a great way of keeping your beard clean.
I have sensitive skin, can I still use beard oil & beard balm?
I personally have very sensitive skin indeed, our balms & oils are natural which reduces the chances of inflammation as well as being CSPR Assured. Always patch test when using a new product, on our product pages we mention the ingredients. If you are new to trying your first oil, check out our beard oil samples these will give you a great insight into our scent profiles whilst testing out the oil for yourself.
CPSR – Cosmetic Product Safety Report, a legal requirement for products to be sold on the market. Some companies don't abide by the rules, so always ask when using a new supplier for beard care – You can find out more from our blog "What is CPSR"
Want us to add something?
Drop a comment of what you would like to add to the beard bible.