Beard balm vs beard oil what should you be using?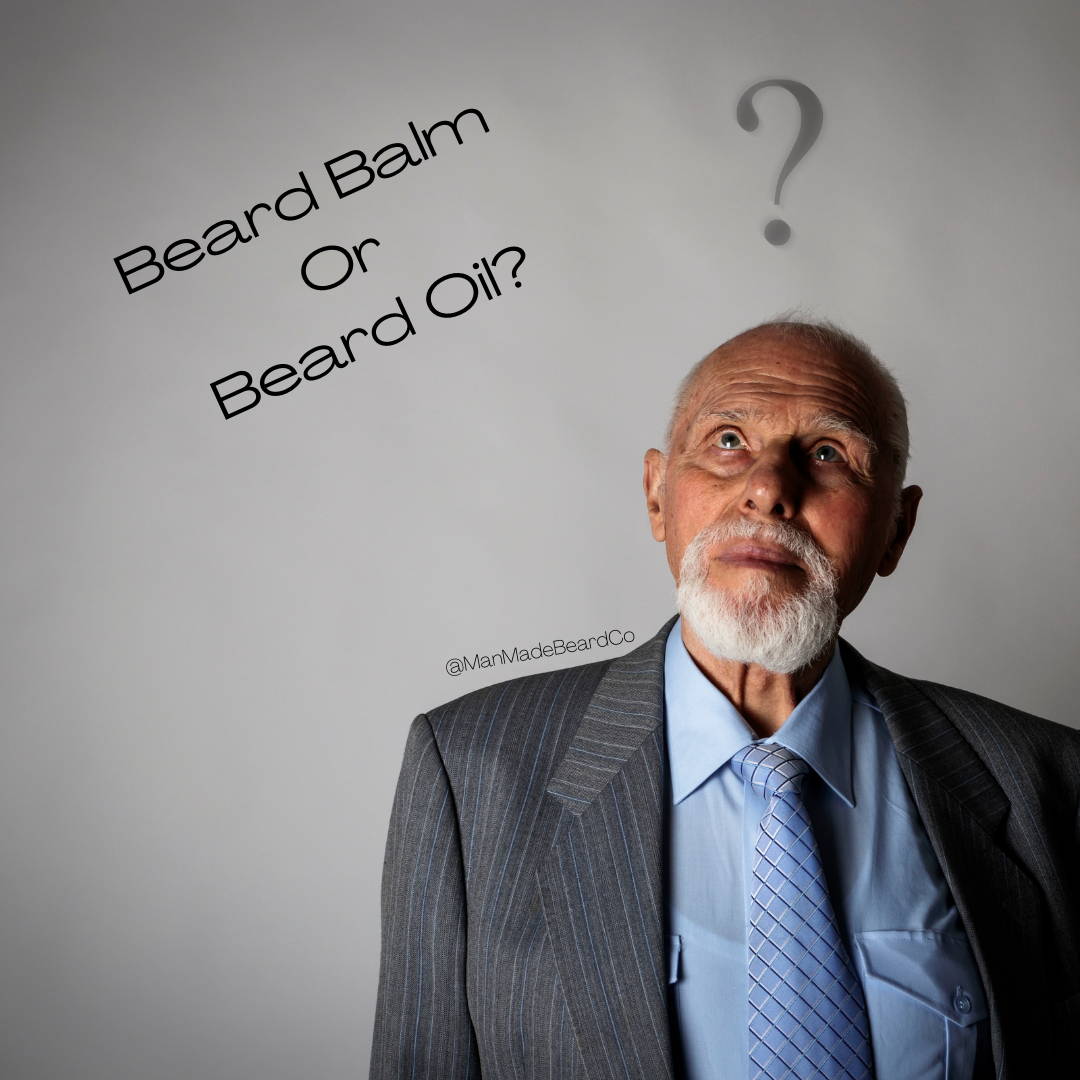 Man Made Beard Blog Content
Part 3-Beard balm vs beard oil
Hello & welcome to another in-depth blog on Beard Oil & Beard Balm, as you can see from above there is plenty to dive into.
I have broken the blog down into 11 Big Questions that I have been asked over the past year, admittedly if you've been using beard care for a little while or even been following my blogs. This may not apply to you however may be a great resource for your content to link to with your own blogs.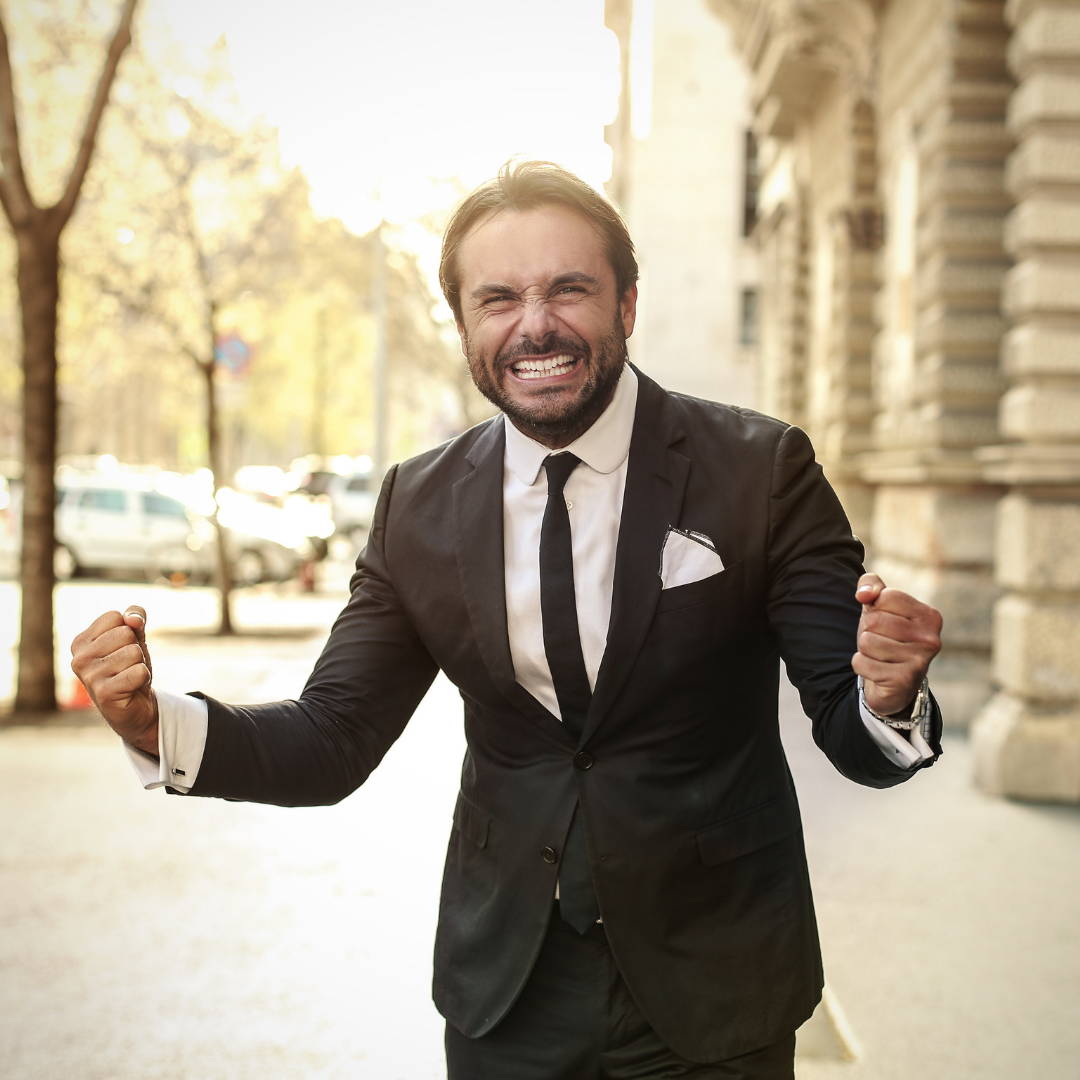 100% natural beard oil will contain Carrier Oils & Essential oils, you may see aftershave inspired beard oils advertised these are not 100% natural, the reason for this is because instead of using the natural essential oil, they have swapped out the natural for a fragranced scent.
Not kicking anyone to the curb, all have great qualities but my personal preference will always be natural.
The carrier base is where the main benefits are, having a strong understanding of ingredient's will prove to be very useful whenever you are looking into a new beard oil.
The scent comes from the added essential oils or fragrance oils, with essential oils have added benefits to each oil, unlike the fragranced oils.
So what does a good beard oil look like?
Having a strong base to the formula is key, that's why when experimenting with our products before the finished product. I tested based on the quality of the oils, ensuring that they do exactly what they're supposed to and you can tell from the ingredients that these are premium!
Carrier oils used Argan Oil, Jojoba Oil & Sweet Almond Oil.

Beard oil is designed to hydrate & moisturise the skin beneath your beard hair, having well-hydrated skin will reduce beard itch. The reason your likely to be scratching away at your face mainly comes down to 2 reason's, firstly your skin is dehydrated and lack of natural oils is exposing your skin to dry out and cause skin irritation reason for the itching.
Secondly, you may just be at the early stages of your beard journey! With that said you may need to hold back on the scratch, assuming you've previously shaved for how many months or years each time you shave you end up leaving sharp hairs beneath the skin, when these start to come through this then causes skin irritation & again causes you to itch (Its probably the worst part of growing out a beard)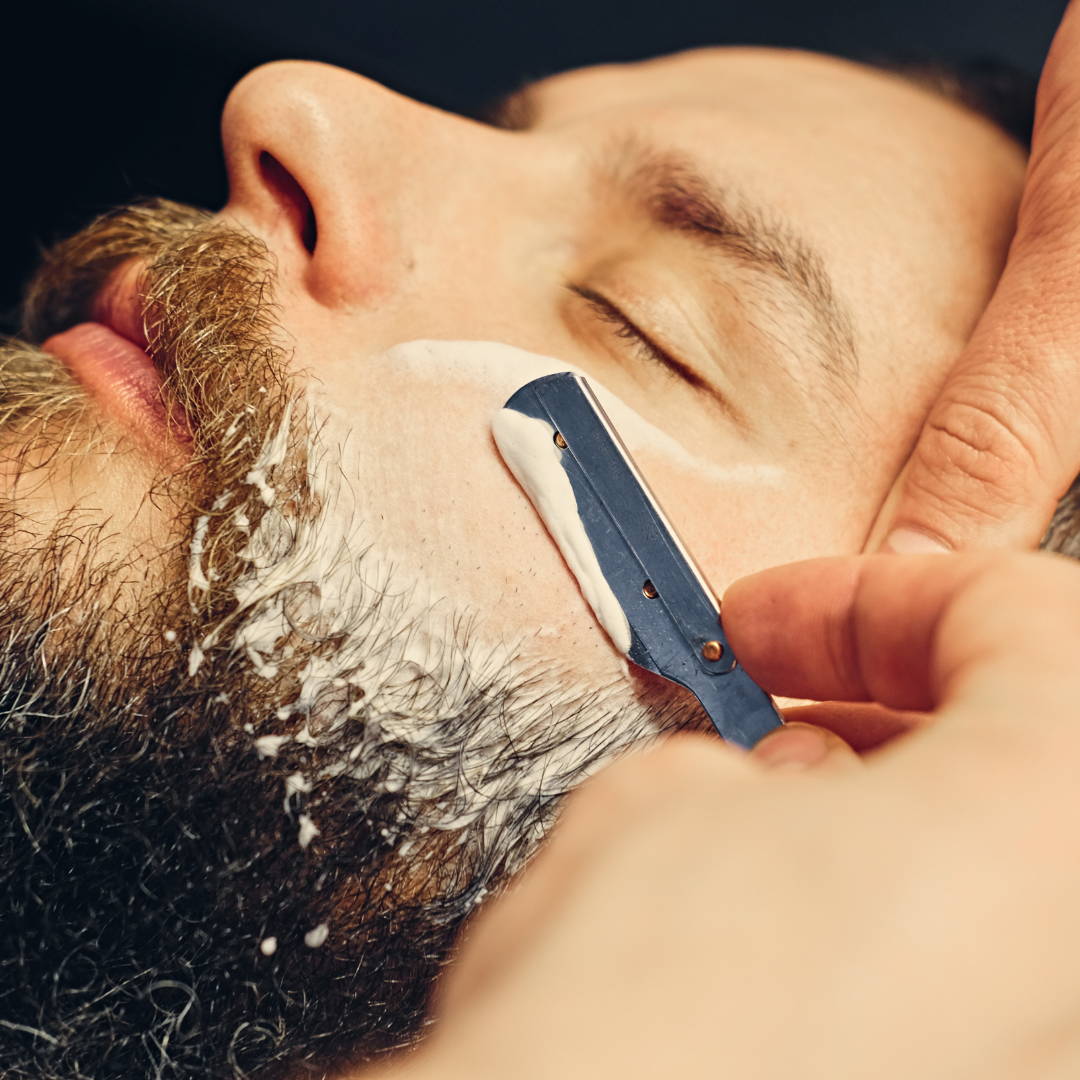 1. Using the pipette or dropper add 2/3 drops to the palm of your hand.
2. Spread between your hands by rubbing from the bottom of your palm to the tip of your fingertips (you want to ensure your fingertips are oiled so you can get the oil deeper into your beard so you can hit the skin)
3.In an upward motion, starting from your neck hairline you want to run your hands up and through whilst keeping as close to your skin as possible.
4. What goes up, must come down as they say & the same applies to applying beard oil. You want to run your hands back down giving your beard shape.
5.Using the man made beard comb, you want to evenly spread the oil between your beard hairs for a more effective application. (The man made beard comb has been designed with a wide-tooth & narrow tooth - Double Sided Wooden Beard Comb)
6. Finished off with the man made beard brush, this helps define and shape your beard whilst spreading the beard oil & if applied beard balm that little extra.
Man Made Beard Oil - The Perfect Man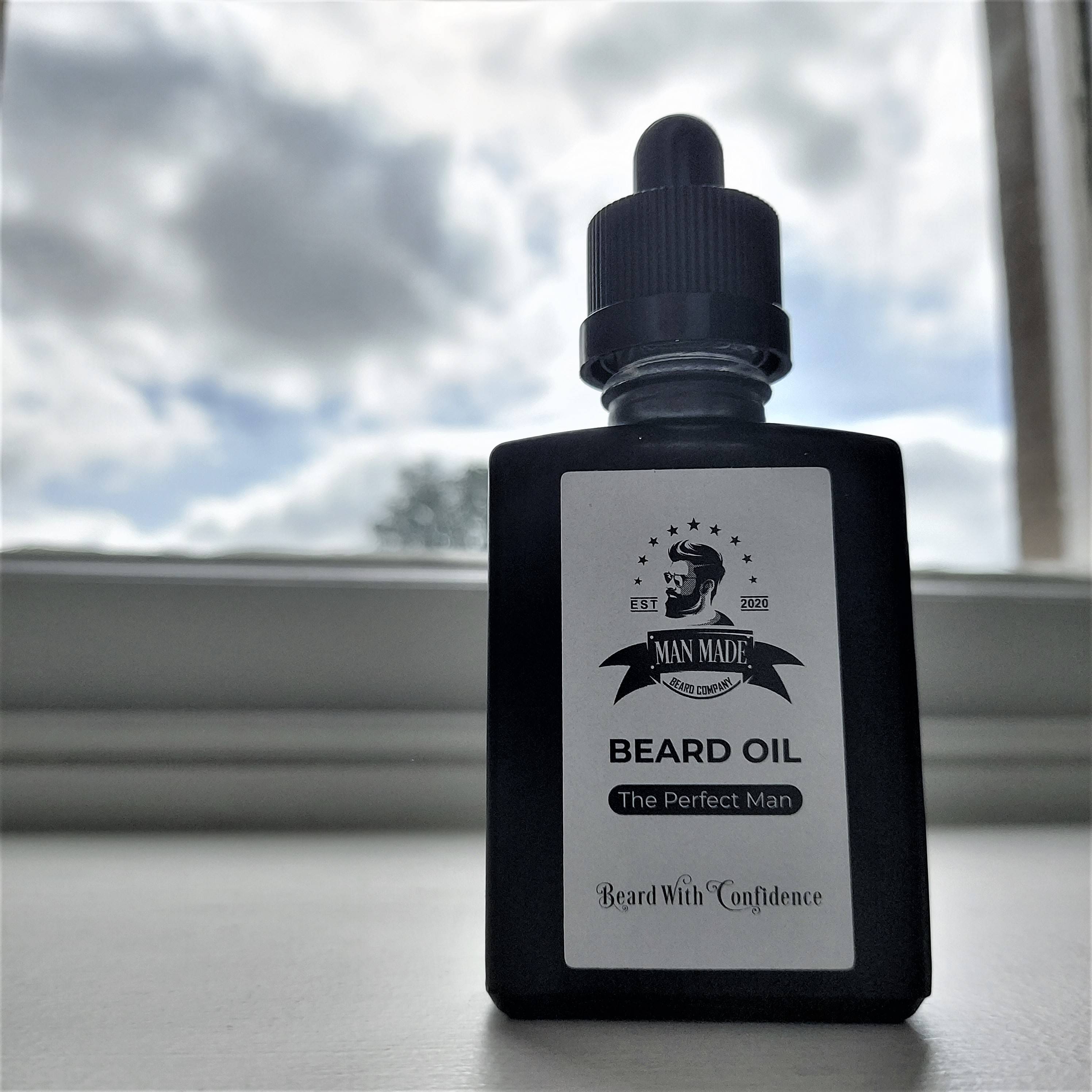 Beard Oil is best used straight after a shower or bath!
The best time to use beard oil is once you have washed your beard. Having just stripped the natural oils out from your beard hair you want to replace them as soon as possible while hydrating your skin directly beneath to prevent your skin & beard from drying out.
Again, dependant on your beard requirements I suggest less is best when first finding your sweet spot for the amount of oil used. Add 1 or 2 drops to the palm of your hand and spread by rubbing your hands together.
Too much will take forever to dry out and will leave your beard looking overly greasy, if this is your first time you want to find that sweet spot, so make sure you add a little at a time until your happy.
Admittedly I use a full pipette glass vial, due to the length of my beard I like to drop a little direct to the skin and rub it in whilst using my man made beard comb to spread the oil more evenly amongst my beard. Then Finished off with the man made beard brush for that finer finish.
Beard balm, is designed to moisturise, nourish & soften whilst containing your flyaway hairs so you can keep your beard style in check without the extra stiffness from a normal wax. Your beard should feel natural and that's why our nourishing beard balms are made on experience, knowledge & a lot of trial & errors!
Growing a beard or maintaining one is no secret it takes a lot of patience. When you get a few inches under your chin you want to start using beard balm, as this specific product targets your hair strands replacing any natural oils lost from showering or the hard day's graft.
Unlike beard oil, there are additional ingredient's which need to be melted down from a solid to a liquid, Beeswax is added to maintain a hold and this also helps maintain the shape of the balm.
Unlike many beard balms, I use cocoa butter as this is more beneficial and this soaks into your skin & hair more maximising the benefits of our balms (Cocoa Butter also smells insanely good).
As mentioned above you need to melt the ingredient's down, mixed & once all this has been done you want to air dry the balms followed on by cool storage. As a small batch beard company, you can always be rest assured that your order has been crafted within 2 weeks of receiving, quality control is just something we are hot on and customer satisfaction is always at the heart of what I do.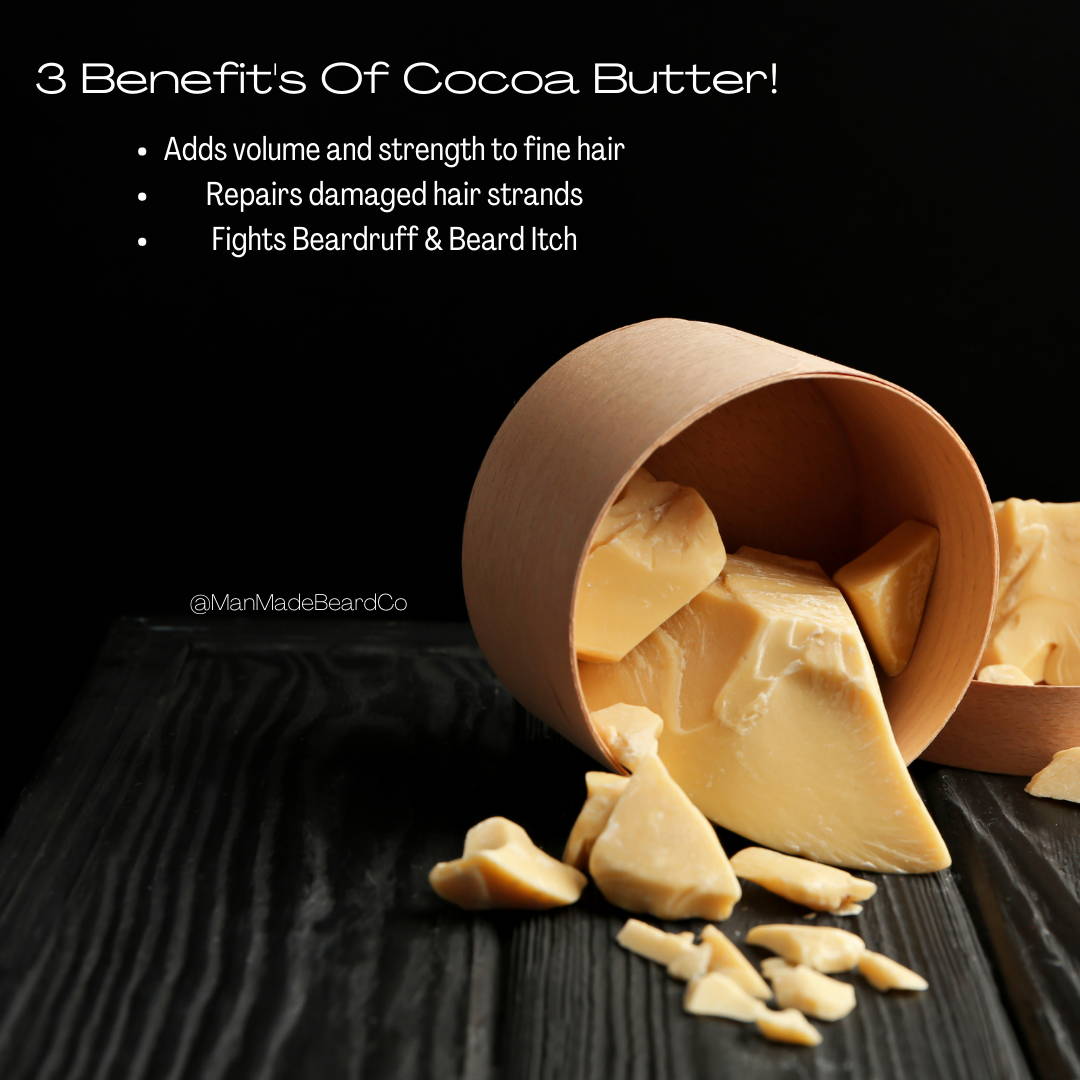 This question really depends on the beard care provider, many brands like mine do sell 100% natural beard balm, Again referencing the essential oils vs fragrance oils this is a big part in the making up the 100%.
If your a using a supermarket brand then its highly likely its only around 60% natural due to added shelf life with preservatives they normally read "made with natural ingredients"
without stating the actual percentage of the product being natural.
If you need to know how to apply beard balm it's highly likely your new to this particular product.
No worries, it is actually really simple but there is a way to effectively apply beard balm and that's what I shall explain here.
Depending on how long your beard is, you may want to start with a small amount no more than a 5 pence piece (you can always add more)
As mentioned above about melting the product, well you want to do this with the palm of your hands rubbing together to cause enough friction to warm the balm between your hand turning the acquired amount into a liquid.
Spread evenly between the palms of your hands to the tip of your fingertips, Similar to beard oil you want to apply by moving your hands through your beard in an upward motion then back down bringing your beard to your preferred men's beard style.
Of course, you don't want to neglect your beard, so pull out your trustworthy man made beard comb & give yourself the double self-indulging comb through & finish of with a fine, crisp and damn confident beard with the man made beard brush.
Congratulations you probably have already taken a selfie because your beard must look damn fine! *Fist Bump*
This is a hard question to ask me, as from this blog you would have noticed they both have their own beneficial benefit's. Many people prefer to use the balm over the oil from my experience within the industry however from a personal perspective I always use oil & combine it with the balm so my beard gets the full benefits of both products.
Men's beard styles do vary and dependant on your preferred style probably comes down to your preference on what I prefer to use.
Let me know in the comments if you prefer balm, oil or both!
As always thank you for taking the time to read through this blog and it's Connor your bearded brother helping others build confidence on the knowledge side of things everything beard related.