Beard Brand UK
A little back story about our founder who created Man Made Beard Company back in 2020.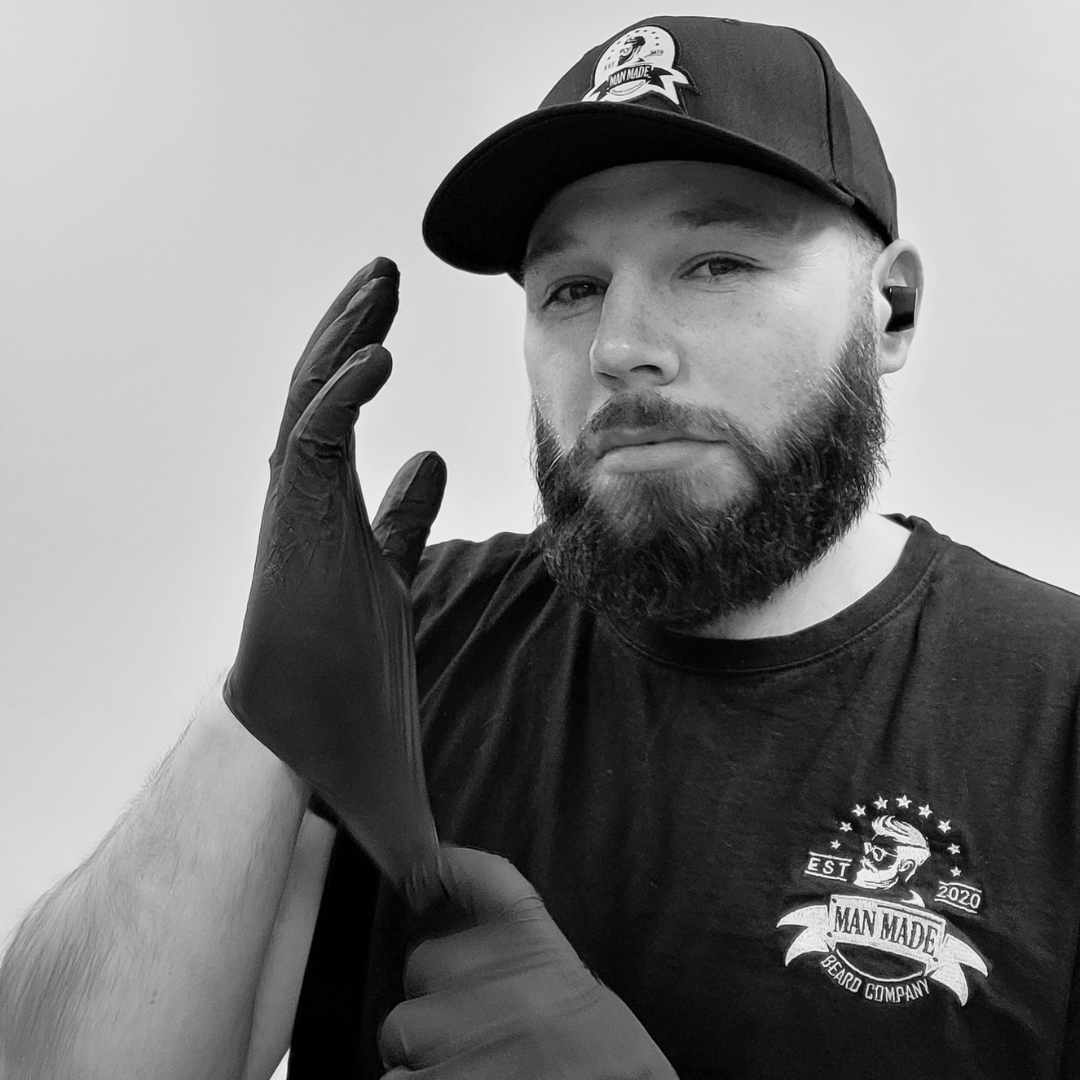 The Beard Company Story
It started with a bad experience from another UK Beard Brand, who was NOT CPSR Certified.

This led me down the rabbit hole of searching for the legalities to how to create my own beard products.

The reason why?
My main reason why I wanted to create products for others to enjoy was based on many of cases.
Firstly, I love helping people!
To drive mens confidence through my products was an idea focused on helping others, thats why in 2020 I kick started the beard brand with the slogan.
Beard With Confidence!

Generally, I wanted to ensure this was shown through with the Man Made Beard Company Brand.

Secondly, I've personally dealt with alot of shit just like most other men have and raising the question
How are you?

Is something many of us don't always hear & to create a topic descussion around mental health whilst raising the awareness on the matter is probably my highlight throughout all of the beard brand growth.
There was times I was taking phone calls up until 3am some nights, where someone had been in a bad headspace and needed to share their thoughts before making a wrong decision.

This generally is the truth & even with bearded brothers across the globe.
But when you get that message saying mate you really helped me, yoiu saved my life thats some real deep meaningful moment that you realise you generally hand on heart helped someone with no intention of anything else in return.

This person was in fact a bearded brother from the big USA, however I wont say no more but trust me when I say this.
Helping someone, anyone in a bad place / situation when they come around, it really is in my oppinion one of the best feelings.
With this said, its also good to be heard!

As always if you follow on Man Made Beard Company Socials, you would already know that I say my inbox is always open & if you need to vent then feel free to message me.

Trust me, I understand that burden of needing to talk but not having no one to turn too.

I feel you Brother / Sister, If your reading this and thinking yeah I need to offload some of my situation, then by all means ping me a message otherwise Ive campaigned and worked with MIND closely and always reccomend to reaching out.

Being ex military and having gone through some shit,
lost a friend to suicide & other experiences trust me!

Its good to talk, it does more good than bad so dont think different.
Moving on......
The Bearded Vision!
Now you've established why I decided to start a beard brand specialising in a Beard Shop UK
I personally want to make this brand lead the way of the market by actually helping others,
to make this happen I know that I need to not just continue to provide a great service to the loyal bearded customers but to also continue to develop, grow & inplement new products.

How am I making this happen?

Same as above!

I listen to you, Man Made Beard Company is built with the voices of many bearded brothers creating products that others wanted to enjoy with the transparent service that many businesses don't seem to value.
The pains of struggling to grow a beard, fighting that bitch of an itch or further more how to grow a beard have been some of the biggest & most common beard questions I seem to come across since starting Man Made Beard Company back in 2020, its crazy to think we are already 3 years in.

An idea born in my box bedroom, soon to be received from many of beards from loads of countries.
America, Australia Canada, France, Germany, Holland, Malaysia, Morroco, Sweden, New Zealand & to be honest I think theres more but that in itself is pretty cool, I think so anyways!

During Covid, I moved out of the box room in order to preserve the safety of the customers taking a big risk, jumping into a office space so early into the business journey.

This way I was able to not only continue providing beard mail but also push forward with the brand.
Whats next for the beard brand?
Its already been quite the beard journey, many highs & lows however I would love to see Man Made Beard Company getting in some of the best barber shops here in the UK.

Having already made a few decent stockists mainly here in Bristol barbers & some surroundings it would be awesome to get into some more across the country.

My main focus over the next few yeards are going to be primarily focused on product development before trying to scale as I need a more effient system in order to do so as I do all by hand and run the business completely on my own.

So yes Id love to be able to create jobs & hire other like minded individuals who not just want to make beard products but actually want to help people too.

The products was a simple idea of helping drive the males confidence, now we build the brand around the customers and focus on providing some of the best beard products here in the uk.